Port Al Thani  on the east side of Marbella.
Its possible to invest in the port or even to buy the project.

The Project will be totally finished  by 2018.

Abdullah Ben Nasser Al-Thani has been named winner of the tender to redevelop and extend the port with plans which include a circular wall and exterior dyke and a 200 meter quay for cruise liners.
Engineers Berenguer, Axel Logis are involved with architect studio Seguí.The Project will run a extra 3 years after the marina is finished and by 2018 the 5 stars Hotels with helipad and surrounding areas will be finished.
The new Malaga Airport with 2 Runways and capacity up to 20 million visitors.
1000 hectares Commercial area by Malaga Airport
Some Super Yacht that have visited Puerto Banus -South of Spain in recent years.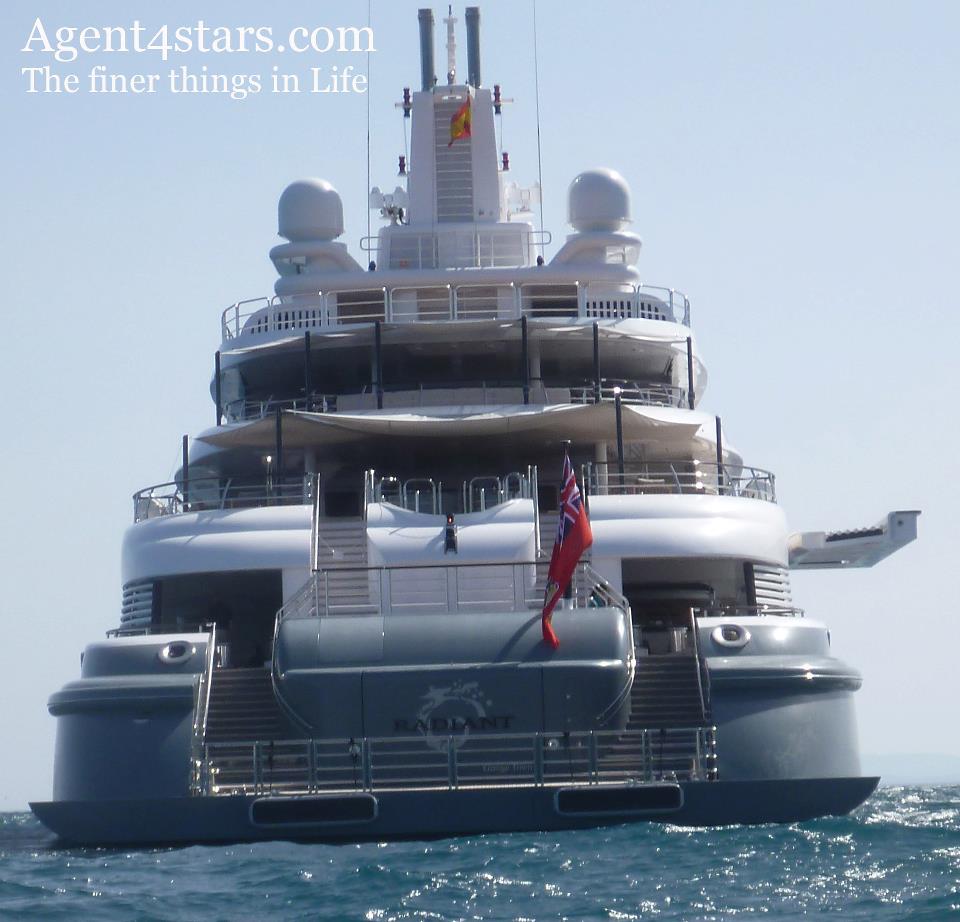 June 2012 – The 110 meter Super Yacht "M/Y Radiant" owned by Billionaire Abdullah Al Futtaim from the UAE visit Puerto Banus.
Billionaire Joe Lewis and his 68m super yacht M/Y Aviva visit Puerto Banus April 2012
Another Qatar owned Super Yacht is the 124 meters "Katara" the Ship like yacht is from 2011
The idea of attracting cruise ships to Marbella has been around in the town ever since the late Mayor, Jesús Gil y Gil, promised to build islands offshore.
The new port will have 1,220 berths with length up to 125 meters, which means Super Yachts are welcome . The current fishing port will be displaced and a new underground car park will give space for 450 vehicles in addition to the 683 places there are currently on the surface.
The Junta puts the cost of the project at 84 million, but the Sheik's company has spoken of more than 400 million.
Nasir Bin Abdullah & Sons (NAS) is the company which will fund the Project on behalf of Sheik Nasser Abdullah Al-Thani.
Vicepresidente of the group NAS is Abdullah Mohamed Haj-Ghubn, he says the new marina will generate up to 4000 new jobs direct and indirect.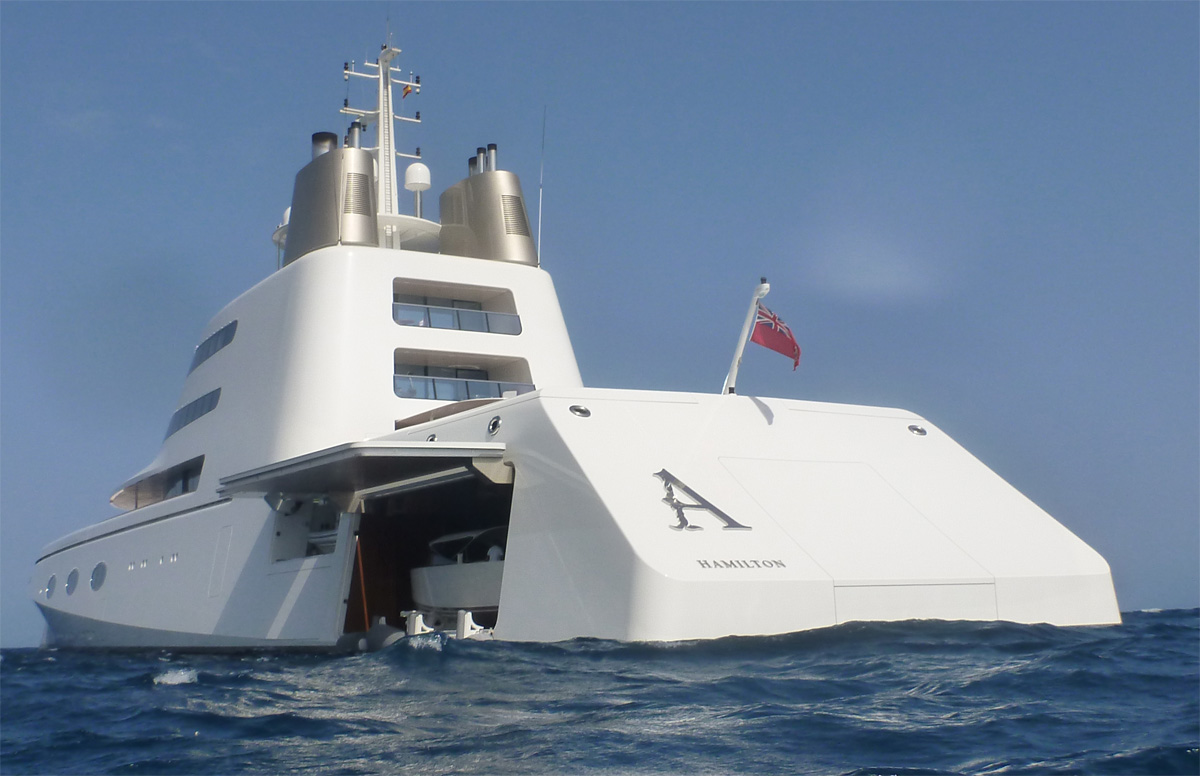 Super Yacht "A" owned by Russian Billionaire  Andrey Melnichenko visit Puerto Banus 2013.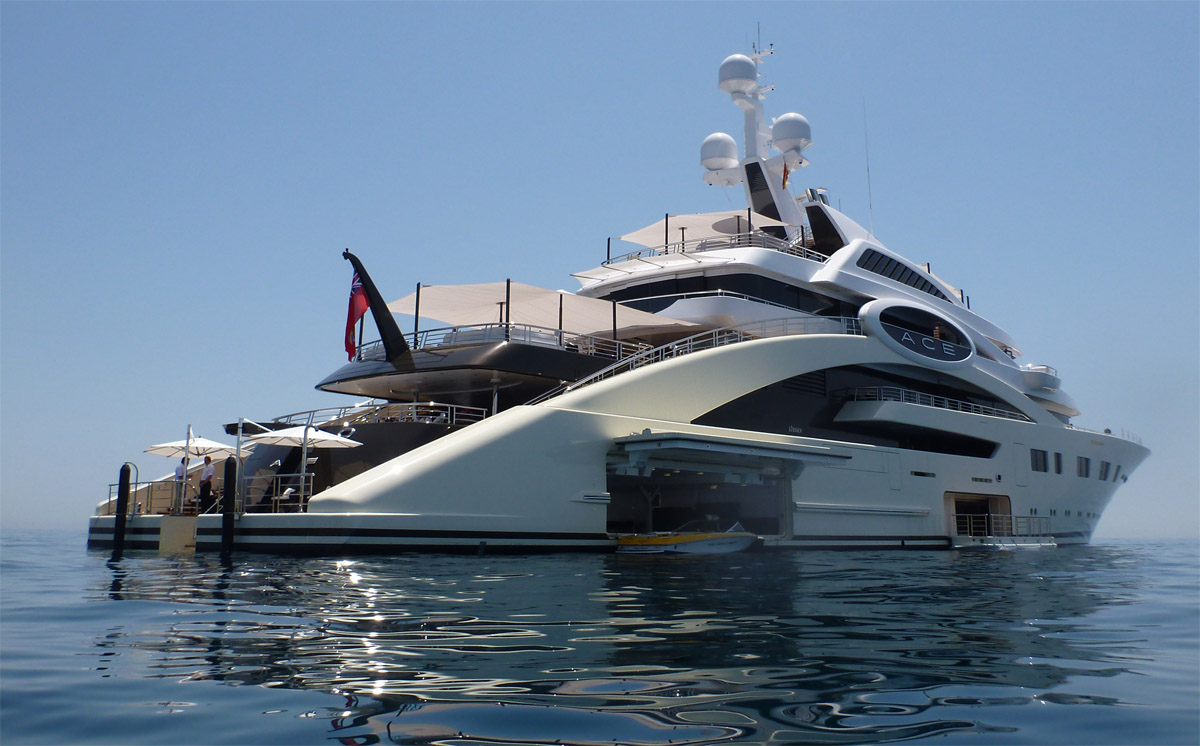 87 meter Super Yacht "Ace" visit Marbella
In other related news. Sheik Nasser Abdullah Al-Thani football club Malaga FC is set for another season in "La Liga" after a good run of wins towards the end of the season.More quality players will be bought for next season.The final game is against Champion Barcelona FC
The most popular and expensive luxury superyacht marina berths
The most expensive and popular superyacht marinas in the world are located in the Mediterranean and the top three most exclusive and expensive private luxury yacht marinas or harbours in the world are all located in Italy. Another interesting point is that Monaco is not as expensive, as one would assume to moor your superyacht in a marina, coming in at 11th place. In fact, Croatia is more expensive than Monaco to berth your luxury yacht (except during the Monaco Grand Prix). France's most expensive marina is no surprise – Port de Saint-Tropez – where in comparison with Capri, yacht owners only pay around half of the daily mooring fee per day (1.356 euros).  Also, it is an interesting fact that marinas in Eastern Europe offer yacht berths at significantly cheaper rates compared to the Italian leaders in the ranking list.
The marina mooring fees charged for a 55-metre superyacht during the high season was the variable used to form the basis for the ranking list. It should be noted that this list has been ranked by using the official marina berth rates and does not take into account 'tips'.
The 15 most expensive luxury superyacht marinas in the world:
1. Marina Grande on Capri – Renting a berth for a 55-metre superyacht here costs 2.585 euros per day during the Mediterranean summer high season in July and August.
2. Porto Cervo on Sardinia – with daily rates of 2.574 euros.
3. Marina di Portofino on the Amalfi coast – with rates amounting to 2.100 euros.
4. Puerto José Banus in Marbella on the Costa del Sol – yacht owners or yacht charterers pay 2.069 euros per day.
5. In fifth place, at 1.643 euros per day, is the Balearic marina of Ibiza Magna.
6. France's most expensive marina – Port de Saint-Tropez, which comes in sixth place. This is no indication that the exclusive holiday domicile on the Côte d'Azur is any less popular. But Port de Saint-Tropez does offer no less than 30 yacht moorings in the larger yacht size category.
7. Seventh place is occupied by the marina Port Camille Rayon in Golfe Juan, also located in the south of France. In the small coastal resort between Antibes and Cannes, owners of a 55-metre superyacht can expect to pay 1.100 euros per day.
8. In Barcelona, the equivalent rate is slightly lower in price, costing 1.084 euros per day at the Marina Port Vell in the Spanish city.
9. The ACI Marina in the Croatian resort of Split comes in ninth place at a rate of 1.001 euros per day.
10. The Yacht Haven Grande on the island of St. Thomas, US Virgin Islands in the Caribbean – the only marina located outside Europe to make the list – where yacht owners and yacht charterers pay a daily mooring fee of 889 euros.
11.Port Hercules in Monaco holds eleventh place at 888 euros.
12. Satur Marina Kalami? in Istanbul, Turkey, with a daily rate of 882 euros.
13. Satur Marina Çe?me in Izmir at 743 euros per day.
14. The Italian Porto San Rocco on the Adriatic coast comes in fourteenth place – at 720 euros per day.
15. Port de la Plaisance de Bonifacio on Corsica – with a daily rate of 690 euros.
Berths for superyachts are scarce in the most popular harbours in the Mediterranean:
In addition to the location and services that a marina has to offer, there is one pricing factor that has a particularly strong impact on the high fees. A scarce supply of berths is the most significant price driver: "Yacht berths in exclusive locations are an extremely rare and highly sought-after commodity. In a similar way to real estate, high demand for a very limited number of spaces leads to a soaring inflation of prices." The industry specialist is not surprised therefore that Capri makes the top spot of the ranking list of the highest priced moorings for 'floating homes'. After all, the hilly isle off the Amalfi coast only has ten yacht berths available that are large enough to accommodate larger superyachts.
"Many yacht owners are surprised that Capri is more expensive than Porto Cervo, and that Puerto Banus charges higher prices than Monaco," says Harry Peralta, Managing Director at Engel & Völkers Marbella. "Having the right budget is not enough though for anyone wishing to moor their yacht in these scarce berths during the high season. Most importantly, they also need to have booked months in advance," adds Mr. Peralta, reflecting the advice he gives clients. Mr. Peralta also explains how prices for the few available berths can fluctuate greatly, depending on the size of the yacht and on seasonal events. During the annual Monaco Grand Prix in Monte Carlo for instance, mooring fees soar to unprecedented highs of several thousand euros. In addition, not all large yachts fit into every marina. Superyachts that are more than 70 metres in length, for example, usually have to weigh anchor off the coast.
Alongside mooring fees, the high maintenance costs for a superyacht form another particular key criteria for consideration. In addition to the marina berth rate, yacht owners and charterers also have to budget for maintenance, repair work and crew expenses. Yachting experts estimate the annual "ancillary" costs of a yacht as being 10 to 20 percent of the procurement costs. It is therefore generally accepted that is more cost effective to charter a luxury yacht than to own one.
As a result, the numbers that make up the wealthy client base for superyachts are very limited. There is certainly active movement on the market, as superyachts rarely stay in the same hands for longer than a few years. The financial crisis did cause a slump in market activity within the yachting industry for a short period. But since the beginning of this year, the international market is undergoing renewed growth and is once again on a success course thanks to a steadily rising level of demand.
These are the findings to emerge from a ranking list according to Engel & Völkers when ranking the 15 most expensive marinas in the world. The mooring fees charged for a 55-metre superyacht during the high season was the variable used to form the basis for the ranking list.
We cannot update the list quick enough, ask me, and I respond with best deals.Ask me where to invest on your inspection trip.I will help you along the way, regardless of nationality, age and Religion.
Marbella is one of the most pleasant, welcoming and cosmopolitan coastal cities in the world.
Now really is the time to invest in South of Spain.Would you like to invest in the new Port in Marbella, then please contact me.
Best Regards