The World´s most expensive diamonds for sale and recently sold Diamonds.

Apr 4, 2017
A 59.60-carat oval pink diamond was auctioned for 553 million Hong Kong dollars (71.2 million US dollars) at Sotheby's Hong Kong jewels and jadeite spring sale
13.22 carat Blue Diamond called "The Blue" sold for US$23.79 million at Christie auction 14th of May 2014.
The "Pink Star"  59.60 Carat Diamond is for sale again.Ask me for price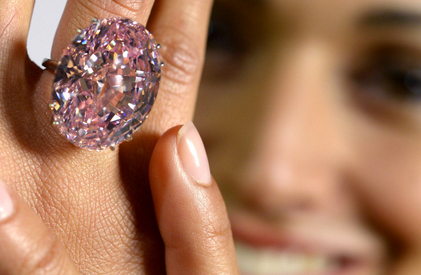 NY diamond cutter Isaac Wolf bid a World Record $83 Million in Auction  for the "Pink Star"  but defaults.The "Pink Star"  59.60 Carat Diamond is for sale again.Ask me for price
"The largest internally flawless fancy vivid pink diamond that the Gemological Institute of America has ever graded." It took two years to cut its dozens of facets out of the original raw stone and polish it into its current oval shape.
PINK DIAMOND PRICES are booming, between 15 and 25% every year, since 1986.
The  "Pink Star" is the largest internally flawless Fancy Vivid Pink diamond ever graded by the Gemological Institute of America (GIA).  This historic stone joins the rare subgroup of Type IIa diamonds, which comprise less than 2% of all gem diamonds, making the "Pink Star" a sensationally-sized, perfect pink diamond. The finished stone, at 59.60 carats, was whittled down from the 132.5 carat rough diamond mined by De Beers in Africa in 1999.  Two years of meticulous cutting and polishing by Steinmetz Diamonds has produced a stunning stone ripe for the record books.
Like other great pink diamonds in history, such as the "Hortense", the "Darya-iNur" and the "Agra", the "Pink Star" has certainly earned its spot among the world's rarest and most celebrated pink diamonds. Cut by Steinmetz Diamonds over a period of nearly two years from a 132.5-carat rough, the diamond was first unveiled to the public in May 2003 as the "Steinmetz Pink." The stone was first sold privately in 2007 and renamed The Pink Star.
Please ask me for the current price of the Pink Star Diamond.
Agent4stars.com currently offer  several large  Pink,Orange,Red  and Blue Diamonds for sale.Contact me for details.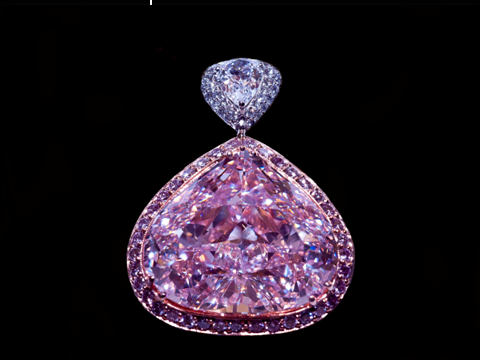 The Pink Sunrise Diamond.is currently for sale ask me for the best price.
CHOICE OF PRODUCTS
Shape: Round, Ideal, Heart & Arrows, Princess, Cushion, Pear, Marquise, Radiant, Heart, Asscher, Oval, Emerald, Straight & Tapered Baguette, Rough & Raw Diamonds
Size: 0.01 to 100.00 cts or above if requested
Color: D, E, F, G, H, I, J, & K
Clarity: IF-I2
Certificate: GIA, IGI and also HRD
ROUND CUT DIAMONDS
The modern Round cut is the culmination of centuries' work. It was developed by Marcel Tolkowsky in 1919 (a noted.
PRINCESS CUT DIAMONDS
The Princess cut diamonds are found in jewelry of all types, but most often in engagement rings and stud earrings.
CUSHION CUT DIAMONDS
The Cushion cut diamond may be seen as modern and new. The modern day cushion cut diamond is reminiscent of.
PEAR CUT DIAMONDS
The Pear cut diamond edgy style may seem modern and new, its origins trace back to 1458, Flemish polisher called.
MARQUISE CUT DIAMOND
The Marquise cut diamonds are not as popular as princess cut or round brilliant but they do have a loyal.
HEART CUT DIAMONDS
The Heart shape diamond has a very long history. It was first mentioned in correspondance between the infamous Duke of Milan,
OVAL CUT DIAMONDS
The Oval cut diamond have long history with different techniques and styles of diamond cuts such as the oval cut.
STRAIGHT AND TAPERED BAGUETTE CUT DIAMONDS
The Baguette cut diamond is one of the most popular cuts of diamonds for diamond engagement rings. The word 'baguette,'.
ASSCHER CUT DIAMONDS
The Asscher cut diamonds originally peaked in popularity in the 1920's, and could recently be found only in antique jewellery.
EMERALD CUT DIAMONDS
The Emerald cut diamond has a rich and vibrant history that dates back thousands of years. The word 'Emerald,' has.
RADIANT CUT DIAMONDS
The Radiant cut is similar to the princess cut diamonds but is usually (though not always) a more rectangular outline
ROUGH & RAW DIAMONDS
The rough & raw diamonds having The Kimberley Process Certificate.
UNCUT  ROUGH diamonds available.
I am direct to the seller of a very large parcel of rough, white diamonds, gem quality stones being offered CIF at a very good price per carat.
1800$ / carat  + 3% commission.
50% seller side and 50% buyer side
Prices are 1400 – 1850 $ per carat (Lowest prices on the marked )
New manifests can be customised to requirements  (this list will be latest availability)
Size,delivery Location, Quality & Monthly budget
TTM in Dubai, New York, Los Angles, Las Vegas and or Zurich, Malca Amit/Brinks.
3% Commission fees will apply. 1.5% to the Buyer side and 1.5% to the Seller side.
BUYER MUST SUPPLY Letter of Commitment (LOC)

I Hereby confirm with full legal and corporate responsibility and under penalty of perjury, We with our clientele are ready, willing and able (RWA) As to enter into a contract on behalf of our clientele whom are willing as in purchasing Diamonds / Commodities for our client's in worldwide, mainly in New York, LA, Israel, Geneva, Zürich, Hong Kong, Dubai.

Our contracted client have the intention to purchase the following commodity, specified below and that clients funding is available from Buyer via Bank Manager to Sellers Bank manager on agree times due to location of both seller and Buyer or via transaction companies* as stated including any import permits needed to fulfil the purchase of the commodity as specified below.
All documentation shall be supplied at the TTM Seller will
provide the following documentation to the Buyer:
 A Commercial Invoice (3 Originals)
 Duly executed Kimberley Process (KPC)
 Certificate of Origin.
 Internationally accepted ID's
 Company certificates
 Packing slip
 Airway bill
Buyer will provide the following documentation to the Seller:
 Company certificates
 Proof of funds.
 Internationally accepted ID.-Passport
 ID FOR ALL GEMMOLOGISTS
7. PROCEDURES:
1. Mutual Signing of Sales & Purchases Agreement.
2. POF Mt 799 Blocked Funds for 500M USD from XXXXXXXXXXX provided for 30 days with Rotating Mt799 monthly.
3. Once POF is received, POP to be delivered, and notices, and paperwork leading to TTM booking.
4. TTM booked in NYC or an agreed first venue in the free trade zone of the airport or as available
in approved venue.
5. Seller avails Proof of Product (POP) which is SKR & Certificate of Origin for the requested
quantity per the manifest to Buyer.
6. Seller will transport parcel within 10-14 business days to Buyer's destination for inspection,
verification and authentication of goods.
7. First delivery of 250K carats will be broken up100K and 150K carat parcel to allow for the Buyer
to request changes to the mix after the first 100K only. Following parcels are processed as
follows:
a. TTM scheduled appropriate Gemologists to be supplied to ensure the required timeline.
b. Stones are viewed small to large daily, and paid daily until parcel is completed.
c. Daily parcels are released with KPC and full documentation once full payment is
received and commissions have been paid.
d. First parcel is 100K to allow client to decide if the mix is acceptable. Changes may
be requested at this time. In the future 2 months' notice must be given to requested
changes.
8. TTM schedule in advance and Buyer and Seller sign off the schedule.
9. Buyer pays for that days' validated diamonds and all commissions per the IMFPA
The POF is run through JP Morgan Chase  or law firm of choice as step 1.
Stefan Katafai
[email protected]
+34 637 97 37 42
I Represent Very Wealthy Buyers And Sellers.
Please Contact Me If You Wish To Buy, Sell Or Collaborate
"A Man Who Stops Advertising To Save Money Is Like
A Man Who Stops A Clock To Save Time." – Henry Ford