Sightseeing Costa del Sol Andalucia Spain, the best excursions and things to do.
Here are the best excursions selected by local real estate agent Stefan Katafai.
Camino del Rey or El Caminito Del Rey (Malaga)
El Caminito del Rey Path is placed in the middle of multi-layered natural surroundings that consist of reservoirs, mountains, gorges and valleys, …
El Chorro Lakes
Ronda, Village, Bridge and the surrounding areas.
Ronda (Spanish pronunciation: [ˈronda]) is a city in the Spanish province of Málaga. It is located about 100 km (62 mi) west of the city of Málaga, within the autonomous community of Andalusia. Its population is about 35,000 inhabitants.
It now is one of the towns and villages that is included in the Sierra de las Nieves National Park.
Cabopino beach & Marbella East
Malaga
Málaga (/ˈmæləɡə/, Spanish: [ˈmalaɣa]) is a municipality, capital of the Province of Málaga, in the Autonomous Community of Andalusia, Spain. With a population of 571,026 in 2018,[4] it is the second-most populous city of Andalusia and the sixth-largest in Spain. The southernmost large city in Europe, it lies on the Costa del Sol (Coast of the Sun) of the Mediterranean, about 100 kilometres (62.14 miles) east of the Strait of Gibraltar and about 130 km (80.78 mi) north of Africa.
Mijas
Mijas (/ˈmiːhəs/MEE-həs; Spanish: [ˈmixas]) is a town and municipality in the Province of Málaga, in the autonomous community of Andalusia. Located on the southeastern coast of Spain, Mijas belongs to the region of Costa del Sol Occidental. Its centre is a typical Andalusian white-washed village, located on a mountainside about 430 metres or 1,476 feet above sea level, in the heart of the Costa del Sol region.
Nerja
Nerja (pronounced [ˈneɾχa]) is a municipality on the Costa del Sol in the province of Málaga in the autonomous community of Andalusia in southern Spain. It is part of the comarca of La Axarquía. It is on the country's southern Mediterraneancoast, about 50 km east of Málaga.
Under Muslim rule, its name was Narixa, which means "abundant source" and is the origin of the current name.
Estepona
Estepona (Spanish pronunciation: [esteˈpona]) is a town and municipality in the comarca of the Costa del Sol, southern Spain. It is located in the province of Málaga, part of the autonomous community of Andalusia. Its district covers an area of 137 square kilometers in a fertile valley crossed by small streams and a mountainous areas dominated by the Sierra Bermeja, which reaches an elevation of 1,449 m at the peak of Los Reales.
Estepona is renowned for its beaches, which stretch along some 21 km of coastline. It is a popular resort and holiday destination.
Due to its natural environment, surrounded by the sea and the mountains, Estepona has a micro-climate with over 325 days of sunshine per year.
Paraglider with engine we fly from a hilltop in Estepona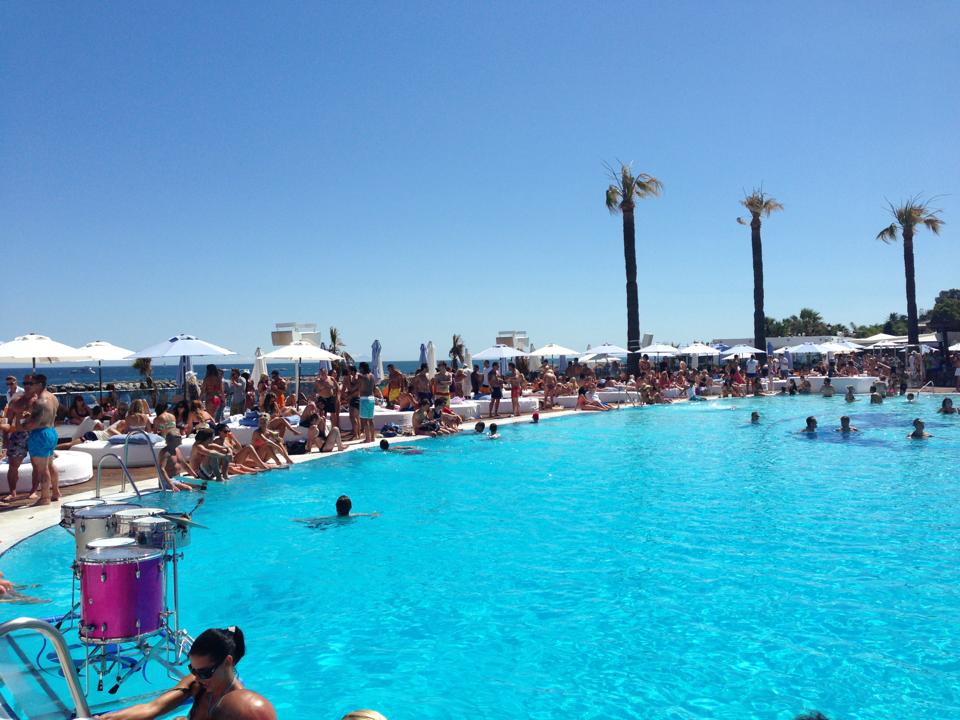 Ocean Club Marbella  Address: Av de Lola Flores, 29660 Puerto Banús, Marbella, Málaga, Málaga
Ocean Club is 9,000 m2 of style, luxury and glamorous indulgence, the very epitome of what today's beach club should be.Ocean Club is a destination within a destination, a sparkling Marbella jewel with a truly international reputation that is the place to be in Puerto Banús

Latest addition is NAO
Puerto José Banús, more commonly known simply as Puerto Banús, is a marina located in the area of Nueva Andalucía, to the southwest of Marbella, Spain
Puerto José Banús, more commonly known simply as Puerto Banús, is a marina located in the area of Nueva Andalucía, to the southwest of Marbella, Spain on the Costa del Sol. It was built in May 1970 by José Banús, a local property developer, as a luxury marina and shopping complex. It has since become one of the largest entertainment centres in the Costa del Sol, with 5 million annual visitors, and is popular with international celebrities.Developed around a coastal village in the Mediterranean architectural style, Puerto Banús contains expensive shopping malls, restaurants and bars around the marina
Ocean club
https://www.facebook.com/stefan.banus/media_set?set=a.10208802979899324&type=3
Super cars in Benahavis. Estepona & Marbella
Please subscribe to the Agent4stars.com youtube channel to follow all the news.
Please just ask me if i have to find a specific Property for you.I just need whats is important, Area and budget to help you best.We can view as many Properties as you like when you have time.
Move to Marbella
Some of my latest Property listings on videos underneath.
Theme parks on the Costa del Sol are experiencing a resurgence in visitor numbers, with some sites even surpassing the pre-pandemic figures from 2019.
After a year of stagnation in 2020 due to the Covid-19 pandemic, operators in the leisure industry are now entering a phase of stabilization, according to reports.
Marta Pérez, the marketing director of Bioparc Fuengirola, explained that although their turnover has increased by five percent compared to 2019, operating costs have risen significantly. This has resulted in a negative balance of three percent, mainly due to high maintenance costs associated with heated areas, heated water, and changes in sulfates.
Pérez further stated that if the market tightens and inflation continues, the results may remain relatively lower. However, the outlook for 2023 is positive due to the excellent performance of international tourism.
Alberto Martín, the general manager of Selwo Aventura, Selwo Marina, and Teleférico Benalmádena, also acknowledged the increase in costs. He highlighted the 40 percent rise in expenses caused by electricity in the previous year. Nevertheless, he expressed optimism for a strong year in 2023 due to the return of international tourism, stating that they are already surpassing the figures from 2019 since their reopening in February.
The revival of school excursions to theme parks, along with international tourism, has played a significant role in the rebound of theme parks. Marta Pérez emphasized that this year has witnessed a 95 percent recovery, and they are expecting to surpass the 2019 figures for school excursions, with bookings already being made for next year.
Pérez also mentioned that international tourists constitute around 54 percent of visitors, while approximately 24 percent are domestic visitors, and the remaining percentage consists of residents using vouchers or annual passes.
Sea Life Benalmádena, as noted by its marketing director, María Morondo, has observed a change in the tourist profile. Although the recovery of British tourists is around 60 percent compared to 2019, other nationalities such as the Dutch have shown significant growth and are now among the top three visitor nationalities. Additionally, the number of domestic tourists is approaching the levels seen in 2019.

Best Regards
Stefan Katafai
[email protected]
+34 637 97 37 42
I represent very wealthy Buyers and Sellers.
Please contact  if you wish to buy, sell or Collaborate
   
 stefan.katafai
"A Man Who Stops Advertising To Save Money Is Like
A Man Who Stops A Clock To Save Time." – Henry Ford