The Marbella property market in 2023-2024 has experienced an extraordinary surge, witnessing unprecedented levels of sales activity across all price ranges. This remarkable growth has extended to various sectors of the local economy, including tourism, the establishment of new prestigious hotels and restaurants, property construction and renovation, as well as the service and hospitality industries.
The heightened activity following the pandemic's end has been described as intense and frenetic.
The luxury market has reached historic levels worldwide, not only in the property sector but also in luxury goods and services across the globe. The wealthiest individuals have seen a significant increase in their assets and wealth, with Forbes reporting a substantial increase in billionaires compared to the past. This surge in wealth has fueled the luxury property market not just in Marbella but globally.
For instance, luxury car manufacturers like Rolls-Royce and Ferrari have experienced record orders and sales. High-end fashion and beauty brands like Chanel and Richemont have reported historic sales figures.
The trend of luxury and high-end consumption is prevalent in various sectors, including travel and hospitality, with five-star hotels experiencing record occupancy rates worldwide.
Marbella's availability of world-class homes has been a primary motivator attracting luxury buyers.
Marbella has solidified its position as a symbol of international prestige, attracting both established wealth and emerging affluent individuals who choose to make the city their home. Buyers in the top end of the market are seeking second or even third "first homes," allowing them to reside in Marbella for several months or the entire year.
The Marbella luxury real estate market has transformed into a top-level sophistication, offering world-class design, quality, and cutting-edge technology.
Key Market Indicators:
The sales boom in Marbella, Estepona, and Benahavís in 2022 broke previous records, with a 20% year-on-year increase in sales volume. Real estate investment in Spain as a whole also saw a significant increase.
Official statistics do not provide all the necessary information, but trends and informal interviews with local agencies indicate a continued strong market.
Despite an increase in interest rates, the luxury property market in Marbella remains strong, with some agencies reporting sales increases of up to 20% in the highest-end segment.
The shortage of supply, coupled with increasing demand, has led to rising asking and selling prices.
The shortage of new or refurbished properties is partly due to a lack of fully-zoned building land in Marbella.
Asking prices in Marbella have risen by about 15% between June 2022 and June 2023, reaching an all-time high.
Marbella's prices remain competitive compared to other municipalities in Spain and globally.
Despite factors like increased mortgage interest rates and inflation, housing prices are expected to continue rising due to various market conditions.
In conclusion, the Marbella property market in 2023-2024 has experienced exceptional growth, particularly in the luxury segment, driven by increased wealth among buyers and limited supply. Despite challenges like rising interest rates, the market remains robust, and prices are expected to continue their upward trajectory.
Marbella Real Estate Market: Why It's a Top Investment Destination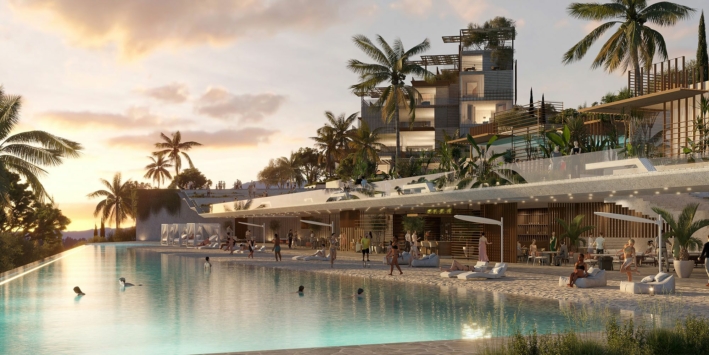 The Marbella real estate market is experiencing unprecedented growth, making it a top choice for investors. Here are key reasons why Marbella is poised for real estate success:
1. Strong and Sustained Demand: Marbella has enjoyed a robust real estate market for over a decade, with luxury properties in high demand since 2021. Demand for high-end properties remains steady, attracting investors worldwide.
2. Year-Round Activity: Marbella's vibrant real estate scene extends throughout the year. The city's popularity means the low season is practically nonexistent, making it a reliable investment choice.
3. Limited Supply: Unlike past property booms, the current market faces a shortage of supply, especially in the luxury segment. Off-plan properties are on the rise to meet demand.
4. Resilience to Interest Rates: Approximately 90% of luxury property sales in Marbella do not rely on bank financing. Thus, rising interest rates are unlikely to significantly impact this segment.
5. Competitive Prices: While ultra-prime areas have seen record price highs, Marbella remains competitive compared to other luxury destinations. Prices are expected to level off in most areas.
6. Expanding Appeal: Marbella's international allure continues to grow, with buyers from diverse countries like the UK, Sweden, the Netherlands, Belgium, and the United States contributing to its cosmopolitan charm.
7. Branded Residences: Developers like Grupo Sierra Blanca have introduced branded residences in collaboration with renowned fashion brands like Fendi, Karl Lagerfeld, and Dolce & Gabbana, enhancing the market's prestige.
8. Hotel Investments and Renovations: The renovation and development of hotels, including iconic ones like the Hard Rock Hotel and Club Med Magna Marbella, further enhance Marbella's luxury appeal.
9. Thriving Economy: A thriving local economy has resulted in Marbella registering the lowest unemployment rates in years, reinforcing its appeal for residents and investors.
10. Tax Advantages: Andalucía offers low taxes, including reduced property transfer tax and wealth tax elimination, making it an attractive destination for international buyers.
11. Rental Market: Marbella's rental market remains strong, catering to short-term tourists and long-term residents. However, affordability concerns are emerging in some areas.
12. Emerging Rental Markets: The city's growing popularity for events such as weddings and corporate functions has created new opportunities in the rental market.
13. Tourism Growth: Record-breaking tourism arrivals and spending in 2023 are driving property investments, with golf and nature tourism segments seeing significant growth.
14. Confidence in Marbella's Future: Despite global uncertainties, confidence in Marbella's future remains high, thanks to its strong community, wealth, and effective governance.
In conclusion, the Marbella real estate market is thriving and continues to evolve to meet the demands of both investors and residents. With limited supply, competitive prices, and a diverse and growing community, Marbella remains a top destination for luxury property investments and high-quality living.
Branded Residences in Marbella: A Lucrative Investment Opportunity
Branded residences in Marbella offer a unique partnership between renowned brands and experienced developers. This collaboration benefits everyone involved:
Brands gain substantial publicity, income from licensing royalties, and strengthened customer relationships.
Developers distinguish their properties in the market, access a wider customer base, command premium prices due to brand prestige, and offer buyers a sense of quality assurance.
Buyers enjoy exceptionally high-quality construction, meticulous attention to detail, world-class design and finishes, and increased rental potential, all associated with the brand.
Grupo Sierra Blanca, led by Pedro Rodriguez and his sons Carlos and Luis, are pioneers in the branded residences sector in Marbella. They've introduced successful projects like Epic by Fendi and Karl Lagerfeld Villas and recently partnered with Dolce & Gabbana for Marbella Design Hills. This impressive project includes approximately 90 top-quality apartments, a commercial plaza, and various amenities, situated near their previous successful developments.
Elie Saab Villas, in partnership with Urbania, is set to begin construction shortly, featuring five luxurious villas on Camoján Road.
Banyan Tree will bring its vibrant concept to Marbella with Angsana Real de La Quinta in 2026, featuring nature-integrated guest rooms, suites, and Angsana Branded Residences.
The Four Seasons development, designed by the renowned architect Richard Meier, plans to start construction in 2024, including a 165-room hotel, 260 private residences, and 40 high-quality villas under Four Seasons management.
Marriott's W brand is developing the W Resort Marbella, a €200 million hotel and residential resort, featuring a luxury W hotel, apartments, and residences.
Tierra Viva, in collaboration with Automobili Lamborghini, presents 53 exclusive luxury villas in Benahavís, showcasing extraordinary design and finishes.
The branded concept isn't limited to residences; it extends to leisure as well. The iconic Puente Romano Beach Resort is now home to Fendi's branded Chiringuito Beach Club, and Marbella's Michelin Star chef, Dani García, partnered with the Mosh Group to relaunch La Cabane Beach Club in Los Monteros.
Hotel Investment & Renovation – A New Era in Marbella
The evolution of Marbella has triggered significant investments in new hotels and the renovation of older ones. Key developments include:
The restoration of the former medical hotel Incosol into a five-star luxury complex by Ilanga Capital Group, with an investment exceeding €150 million.
The transformation of Andalucía Plaza Hotel into the Hard Rock Hotel after a complete refurbishment, winning international awards.
The opening of Club Med Magna Marbella, a new luxury family holiday resort with impressive facilities.
The inauguration of Occidental Puerto Banús with extensive refurbishments, enhancing the area's appeal.
The complete transformation of Hotel El Fuerte into a five-star hotel with 266 rooms.
The refurbishment of La Fonda, a historic hotel in the Old Town, as the first Relais & Châteaux property in Andalucía.
The reopening of Hotel Los Monteros under the luxury brand Kimpton, following an €11.8 million refurbishment.
Numerous other hotels in Marbella, such as Pinomar, Eurostar, San Cristóbal, Don Pepe, Estrella del Mar, and Don Carlos, have already undergone refurbishments.
National and International Developers Flock to Marbella
Apart from branded property developers, many national and international developers are investing billions in Marbella area real estate. Some notable projects include:
Neinor Homes investing €229 million in launching 446 homes in the province of Málaga.
Metrovacesa allocating €17.5 million to The Medblue II residential project with 45 homes in Los Monteros.
López Real Inversiones committing €25 million to reform and renovate the "Marbel Center" shopping center.
Taylor Wimpey Spain beginning construction on Marbella Lake, an investment of over €35.5 million, and launching Almazara Boutique Residences in Istan with an initial investment of €30 million.
Millenium Hospitality planning 40 ultra-high-end apartments behind the Guadalpín Banús Hotel.
Grupo Insur investing €42 million in the Quintessence project in Altos de los Monteros, featuring 96 homes with sea views.
Aedas, the successful Spanish public company, buying land for the development of 5,000 homes with an investment of €1.3 billion.
Many other developers, like Azata, are actively involved in Marbella's real estate market.
A Multicultural Community and Booming Local Economy
Marbella boasts a diverse, multicultural community with 161,870 residents, including 51,024 foreigners from 135 different nationalities. An additional unregistered population of tourists and part-time residents of around 150,000 further enhances the community.
The booming local economy is evident in the lowest unemployment rates in 14 years, driven by the service and hospitality sectors. The municipal budget for 2023, at €333 million, is the largest in Marbella's history. Numerous infrastructure and improvement projects are underway across the municipality.
The New General Zoning Plan of Marbella
Marbella is expanding rapidly, necessitating the re-designation of rural land as urban. The new general zoning plan, expected to be approved in 2024, will facilitate this expansion, with focus areas including Nueva Andalucía, Golden Mile and Nagüeles, Marbella Town, and Marbella East.
Tax Breaks for Andalucía
Andalucía offers some of the lowest taxes in Spain, attracting foreign investment and fostering capital growth. Advantages include low property transfer tax, stamp duty, and wealth tax, as well as the virtual abolition of gift and inheritance tax.
The Rental Market in Marbella
The property rental market in Marbella is characterized by high demand and supply imbalances:
Short-term rentals are lucrative, with luxury properties in high demand during the high season.
Long-term rentals are in high demand, with limited supply, resulting in higher rental prices.
Affordable rentals are available in nearby areas like Estepona and Fuengirola.
New rental markets are emerging for events like weddings, corporate functions, and productions.
Tourism Records Continue to Break
Tourism is a driving force in Marbella's growth, with record-breaking arrivals and spending. In the first four months of 2023, Spain received 21 million arrivals, with visitor and spending records being broken in April.
Confidence in Marbella is High
Despite global uncertainties, confidence in Marbella's future remains exceptionally high. The city's financial stability, bolstered by its residents, tourists, and investors, combined with effective local governance, positions Marbella to weather any potential economic challenges.
The Rental Market in Marbella
Marbella's rental market is thriving, driven by various factors:
Short-term Rentals: Short-term rentals continue to be highly lucrative, with thousands of properties available throughout the Costa del Sol. Owners often opt for short-term rentals, particularly during the peak season, maximizing their earnings. High-end apartments can command premium prices, with some exceeding €1,000 per night in prime locations like the Golden Mile Puente Romano beachside during July and August.
Long-term Rentals: A robust long-term rental market exists in Marbella, driven by work opportunities and digital nomads working from home. This increased demand, coupled with a limited supply of high-quality apartments in key areas, has led to rental prices of €2,500 per month or more for sought-after properties. Modern luxury villas easily achieve monthly rents exceeding €15,000.
Affordable Rentals: For the local working population, rental apartments in Marbella have become increasingly unaffordable, with minimum prices around €1,200 per month. As a result, neighboring areas like Estepona, Fuengirola, and inland locations like Monda and Coin are benefiting from this demand due to their more affordable rental rates.
New Rental Markets: Over the past decade, Marbella has evolved into a premier European destination for various events, including weddings, corporate functions, reality shows, photoshoots, and Netflix productions. Exclusive high-end properties are in high demand for these events, leading to increased bookings.
Tourism Records Continue to Break in 2023
High-quality tourism remains a pivotal driver for Marbella's prosperity, introducing people to the area who later decide to invest in properties. The city's commitment to residential tourism, established since the mid-1950s, continues to yield dividends. In the first four months of 2023, Spain welcomed a staggering 21 million arrivals, marking a 32.4% increase compared to the same period in 2022. Visitor spending also reached impressive heights, with €8.48 billion in April alone, reflecting a 22.7% surge compared to 2022.
Málaga Airport achieved record-breaking numbers in arrivals during the first half of 2023, welcoming over 10 million passengers. This remarkable feat surpassed the previous record set in 2019 by an impressive 9.2%. The summer of 2023 witnessed an unprecedented 151 direct flights between Málaga Airport and various international destinations in Europe, the Middle East, Africa, and North America, highlighting the Costa del Sol's enduring appeal as a premier tourism destination. Marbella, known for its high-quality tourism offerings, continues to lead the region in attracting discerning travelers.
Marbella has enjoyed record-breaking hotel occupancy rates in the first half of 2023, surpassing even the remarkable figures achieved in 2019, a pivotal year for the tourism sector. The 20% growth in tourism segments such as golf and nature tourism has led to extended stays and higher-than-average spending per tourist, further boosting the local economy.
Confidence in Marbella's Future
Despite global uncertainties, Marbella stands resilient and confident in its future prospects. The city's strong financial footing, fostered by the contributions of residents, tourists, and investors across various levels, alongside effective local governance, positions Marbella to navigate potential economic challenges with resilience. The city continues to attract investment, offer outstanding rental opportunities, and break tourism records, solidifying its reputation as a premier destination for both living and leisure. Marbella's future remains bright, and its allure endures as a hub of luxury, culture, and opportunity on the Costa del Sol.
Stefan Katafai specializes in providing a tailored approach to assist you in discovering the ideal property in Marbella that perfectly matches your budget and preferences. Leveraging his extensive network and profound market insights, Stefan undertakes a personalized search to uncover suitable options, whether your interest lies in a lavish villa, a beachfront apartment, or a charming townhouse.
The intricate terrain of the real estate market in Marbella can seem daunting, but with Stefan as your guide, you can confidently navigate it. He offers a wealth of comprehensive information about potential properties, encompassing their location, amenities, market valuation, and investment prospects. Stefan's adeptness in negotiation and deal structuring ensures that you make informed choices and secure the most advantageous deals.
Beyond property exploration and acquisition, Stefan extends his assistance to various facets of the purchasing process. Whether you require support with property renovation, legal intricacies, or connections with trustworthy professionals such as lawyers, architects, and contractors, he possesses an extensive network of contacts to streamline your experience.
Should you be contemplating a real estate investment in Marbella, don't hesitate to reach out to Stefan Katafai today to discuss your unique requirements and benefit from his expertise. With his personalized methodology and unwavering dedication to client contentment, Stefan is your guiding force towards a lucrative and prosperous investment in the captivating realm of Marbella.
Contact Information:
Stefan Katafai
Phone: +34 637 973742
Email: [email protected]
Website: Agent4stars.com