The La Zagaleta estate in the Costa Del Sol region of Spain is home to some of the most influential business people in Europe, this article gives you an insight as to why that is the case.
The La Zagaleta Golf and Country Club is set in 900 Hectares of beautiful, mountainous Andalucian countryside.
The site was originally owned by Henry Roussell, Father to Thierry Roussell the husband of Cristina Onassis.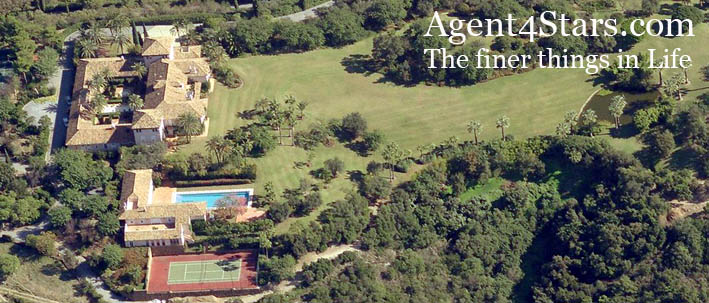 The Mansion have a large Swimming pool (with a large R=Roussell) and Tennis court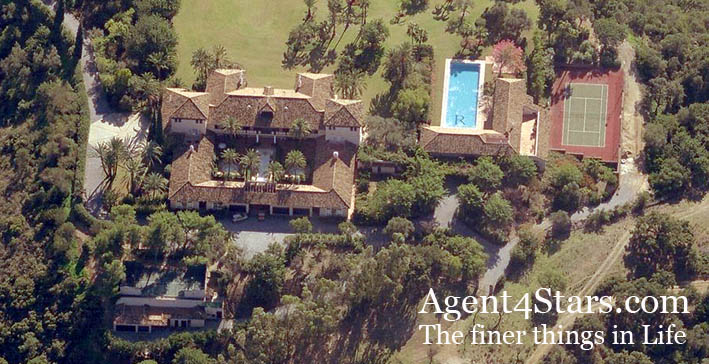 Athina Onassis Roussel


Athina Onassis de Miranda with AD Crosshill, CSI 5* horse show Hamburg 2011

Born

January 28, 1985 (age 28)




Neuilly-sur-Seine, France

Occupation

Equestrian athlete




Owner, AD Sport Horses

Spouse(s)

Álvaro Affonso de Miranda Neto(2005–present)

Parents

Thierry Roussel




Christina Onassis
Athina Onassis de Miranda (born January 28, 1985) is a French heiress, the only surviving descendant of Aristotle Onassis, the Greek shipping magnate.
She is sole heir to her late mother, who inherited about half the fortune of Aristotle Onassis. The other half was left to the Alexander S. Onassis Public Benefit Foundation. The two halves of the fortune are separately managed. Despite keen investigation by the media, the extent of Roussel's wealth remains unknown.
Roussel married Brazilian Olympic showjumper Alvaro de Miranda Neto in 2005. She is a competition showjumper in her own right, under the name Athina Onassis de Miranda.
After Henry Roussell the estate was  purchased by Adnan Khashoggi, one time worlds richest man and Billionaire.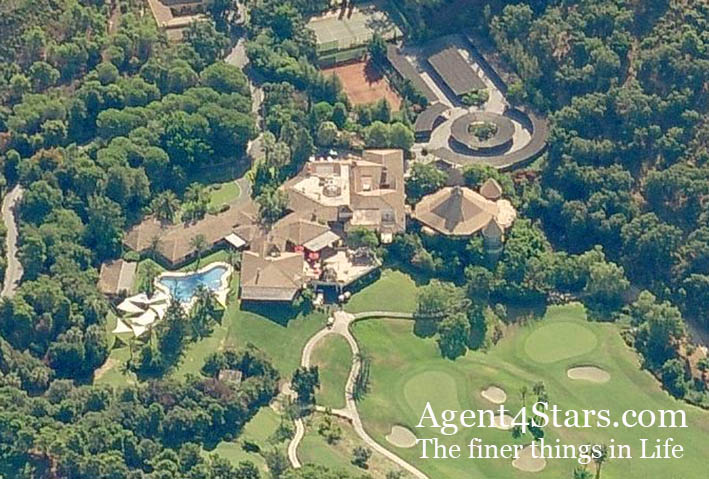 Mr.Khashoggi´s old 5100m2 house is now the La Zagaleta clubhouse
Adnan Khashoggi is a Saudi Arabian arms-dealer and businessman. He is also noted for his engagements with high society in both the Western and Arabic-speaking worlds, and for his involvement in the Iran–Contra and Lockheed bribery scandals. Wikipedia
Born: July 25, 1935 (age 77), Mecca
Parents: Muhammad Khashoggi
Children: Ali Khashoggi, Nabila Khashoggi, Mohammed Khashoggi,Khalid Khashoggi, Hussein Khashoggi, Omar Khashoggi
Siblings: Samira Kashoggi, Soheir Khashoggi
Education: Ohio State University, California State University, Victoria College, Alexandria, Stanford University
After his fall from grace for arms dealing the estate was confiscated and then purchased in the late eighties by its current owner, with a clear vision of creating one of the finest and secure residential developments within Europe.
The development officially started being marketed in 1991 and from then on has been highly regarded and a by-word for absolute luxury. With the original golf designed by Bradford-Benz and Mr.Khashoggi´s old 5100m2 house being converted into a fabulous clubhouse, the estate has gone from strength to strength. The latest golf course, situated in the North West quadrant of the estate, names "Los Barrancos" added in 2007 at an approximate cost of €20,000,000.
Khashoggi continues to live a low-key existence in  in the Principality of Monaco, in 1980 he divorced  his wife Soraya..
Security is of prime concern to the current owners and therefore as you would expect it is impossible to enter the estate unless you have the express consent of either one of the owners or La Zagaleta themselves. There are only two points of access into the development and both of which are manned by highly trained, armed guards. The site is patrolled 24 hours per day and all the owners have peace of mind when they leave their property alone.
Today the La Zagaleta urbanisation count many well known people as residents.I can help you find a home in La Zagaleta.
[gravityform id="1″ name="Contact Form"]
Best Regards
stefan.katafai or agent4stars.com
"A man who stops advertising to save money is like
a man who stops a clock to save time." – Henry Ford