Introduction:
The Mediterranean region has long been renowned for its captivating beauty, idyllic climate, and vibrant lifestyle. With an abundance of charming coastal towns and cosmopolitan cities, it can be a challenge to determine the most desirable places to call home. In this article, we will delve into some of the Mediterranean's top contenders, including Marbella, Monaco, Algarve, Lisbon, Italy, Nice, Antibes, Athens, the Greek Islands, Istanbul, Mallorca, and Ibiza. By considering factors such as weather, safety, cosmopolitan atmosphere, and overall appeal, we aim to uncover the Mediterranean's most coveted living destinations.
Marbella: A Luxurious Haven:
Nestled along the picturesque Costa del Sol, Marbella has gained a reputation as one of the Mediterranean's most coveted destinations. With its year-round sunshine, stunning beaches, and glamorous lifestyle, it attracts a diverse and cosmopolitan community. Marbella offers a blend of modern amenities, world-class golf courses, and a vibrant nightlife, making it a magnet for those seeking an upscale and luxurious lifestyle.
Monaco: The Epitome of Opulence:
Monaco, a sovereign city-state on the French Riviera, is synonymous with luxury and exclusivity. Renowned for its prestigious Grand Prix, yacht-filled harbor, and iconic Casino de Monte-Carlo, Monaco exudes sophistication and opulence. While it offers a high standard of living and a secure environment, Monaco's limited space and high cost of living may be factors to consider.
Monaco Yacht show

Algarve: A Coastal Paradise:
The Algarve, Portugal's southernmost region, boasts some of Europe's most breathtaking coastline and pristine beaches. It offers a relaxed lifestyle, a favorable climate, and an affordable cost of living compared to other Mediterranean destinations. The region is particularly appealing to retirees, golf enthusiasts, and nature lovers, with its charming towns, world-class golf courses, and natural beauty.

Lisbon: The Enchanting Capital:
As Portugal's capital city, Lisbon has seen a surge in popularity among expatriates in recent years. Its combination of old-world charm, vibrant cultural scene, and affordable cost of living make it an attractive option. With its stunning architecture, picturesque streets, and renowned cuisine, Lisbon offers a rich and cosmopolitan lifestyle.
Italy: A Tapestry of Splendor:
Italy's Mediterranean coastline boasts numerous alluring destinations, from the glamorous Amalfi Coast to the historic beauty of Sicily. Regions such as Tuscany, Liguria, and Sardinia offer a harmonious blend of natural landscapes, rich history, and cultural heritage. Whether it's the romance of Venice, the elegance of Florence, or the charm of the Italian Riviera, Italy offers an enchanting lifestyle for those seeking beauty and cultural richness.
Nice and Antibes: French Riviera Gems:
The French Riviera exudes an air of sophistication, and the cities of Nice and Antibes are no exception. With their scenic coastal views, elegant promenades, and world-class museums, they attract a diverse international community. Nice offers a vibrant city lifestyle, while Antibes provides a quieter and more intimate atmosphere, both epitomizing the glamour and charm of the Côte d'Azur.
Athens and the Greek Islands: Mythical Beauty:
Greece, with its captivating history and breathtaking islands, holds immense appeal. Athens, the country's capital, combines ancient wonders with a vibrant modern culture. The Greek Islands, including Mykonos, Santorini, and Crete, offer stunning landscapes, crystal-clear waters, and a relaxed lifestyle. Greece's warm climate, welcoming locals, and rich cultural heritage make it an enticing option for those seeking a Mediterranean paradise.
Istanbul: Where East Meets West:
Straddling two continents, Istanbul offers a unique blend of cultures and a rich historical tapestry. This vibrant city boasts stunning architecture, bustling markets, and a thriving arts scene. With its strategic location and dynamic atmosphere, Istanbul serves as a bridge between Europe and Asia, making it an intriguing choice for those seeking a cosmopolitan lifestyle with a touch of exotic allure.
Mallorca: The Jewel of the Balearics:
The Spanish island of Mallorca, nestled in the Balearic archipelago, is renowned for its stunning natural landscapes and crystal-clear waters. It offers a relaxed Mediterranean lifestyle combined with a vibrant cultural scene. From picturesque villages to vibrant beach resorts, Mallorca caters to a diverse range of preferences, attracting both nature enthusiasts and those seeking a lively social scene.
Ibiza & Formentera: The Party Island with a Tranquil Side:
While Ibiza is famous for its legendary nightlife and world-class clubs, the island also has a tranquil side. It boasts breathtaking beaches, secluded coves, and charming traditional villages. Ibiza's unique blend of vibrant energy and serene beauty makes it an attractive choice for those seeking a balance between lively entertainment and peaceful retreats.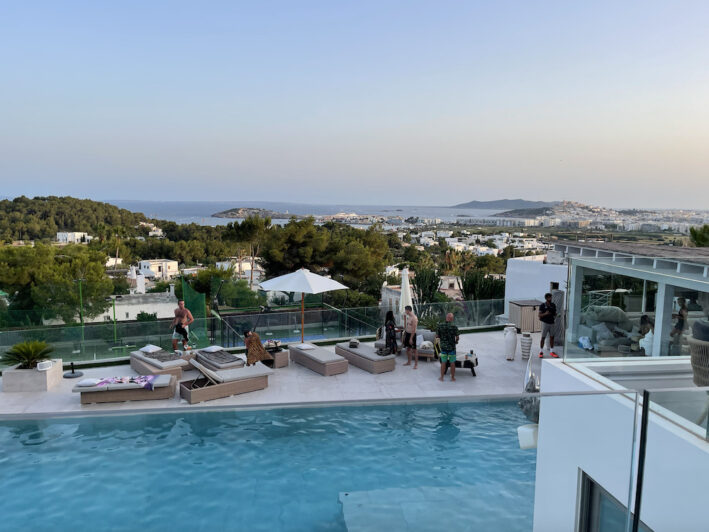 Comparing Factors:
When considering the most desirable places to live in the Mediterranean, several factors come into play. Weather plays a significant role, with the region enjoying a Mediterranean climate characterized by warm summers and mild winters. Safety and crime rates are also crucial considerations, with some destinations boasting lower crime rates than others.
Being cosmopolitan is another key aspect, with cities like Marbella, Monaco, Lisbon, and Athens offering a diverse and international community. Access to amenities, such as healthcare facilities, international schools, and recreational activities, also influences the desirability of a location.
When considering the most desirable places to live in the Mediterranean, several factors come into play. Weather plays a significant role, with the region enjoying a Mediterranean climate characterized by warm summers and mild winters. Safety and crime rates are also crucial considerations, with some destinations boasting lower crime rates than others.
Being cosmopolitan is another key aspect, with cities like Marbella, Monaco, Lisbon, and Athens offering a diverse and international community. Access to amenities, such as healthcare facilities, international schools, and recreational activities, also influences the desirability of a location.
Additionally, when comparing these Mediterranean destinations, it's important to delve deeper into the factors that make them stand out.
Marbella, known for its luxurious lifestyle, offers an excellent standard of healthcare facilities and international schools. The city's cosmopolitan atmosphere attracts a diverse community of residents from around the world. Monaco, on the other hand, is renowned for its safety and security, with a low crime rate and a well-developed healthcare system. It also boasts prestigious international schools and a plethora of recreational activities, making it a haven for the affluent.
Lisbon, while not as large as some other cities on the list, has seen significant investment in its healthcare infrastructure, making it an attractive destination for those seeking quality medical care. It offers a vibrant cultural scene with numerous art galleries, theaters, and music festivals, appealing to those who appreciate the arts.
Athens, with its rich history and cultural heritage, provides a wide range of healthcare options and international schools. The city is home to several renowned hospitals and clinics, ensuring access to top-notch medical services. Athens also offers a wealth of recreational activities, including vibrant nightlife, museums, and historical sites, catering to a diverse range of interests.
In terms of safety, the Algarve region in Portugal stands out with its low crime rates and a reputation for being one of the safest places to live in Europe. The region also boasts modern healthcare facilities, including private hospitals, and a range of international schools to cater to expatriate families.
When it comes to weather, the Mediterranean region, in general, offers a mild and temperate climate, with warm summers and mild winters. However, destinations like Marbella, the Greek Islands, and the Algarve benefit from particularly long and sunny summers, making them ideal for those who enjoy spending time outdoors and taking advantage of the region's beautiful beaches.
While all these destinations have their unique charms and appeal, it ultimately boils down to individual preferences and priorities. Some may prioritize a vibrant social scene and luxury living, while others may value tranquility and natural beauty. Considering factors such as weather, safety, cosmopolitan atmosphere, and access to amenities is essential in determining the most desirable place to live in the Mediterranean that aligns with one's lifestyle and preferences.
Among the desirable Mediterranean destinations discussed, Marbella on the Costa del Sol in Spain stands out as an excellent choice for several compelling reasons.
Climate: Marbella enjoys a microclimate that offers over 320 days of sunshine annually. Its mild winters and long, sunny summers create a pleasant environment for outdoor activities and a year-round outdoor lifestyle.
Beaches and Natural Beauty: Marbella boasts stunning beaches along its coastline, providing residents with easy access to pristine shores and crystal-clear waters. From glamorous beach clubs to tranquil coves, the area offers a diverse range of coastal experiences. Additionally, the surrounding natural beauty of the Sierra Blanca mountain range adds to the charm of the region.
Lifestyle and Culture: Marbella is renowned for its luxurious and cosmopolitan lifestyle. It attracts a diverse international community, including celebrities and affluent individuals seeking the finest amenities, high-end shopping, gourmet dining, and vibrant nightlife. The city also hosts numerous cultural events, including music festivals, art exhibitions, and theater performances, ensuring a rich and vibrant cultural scene.
Infrastructure and Amenities: Marbella offers a well-developed infrastructure with modern amenities and services. The city provides excellent healthcare facilities, including private hospitals and clinics, ensuring residents have access to top-quality medical care. International schools are also available, catering to families who seek a world-class education for their children.
Golfing Paradise: Marbella is a golfer's paradise, with numerous world-class golf courses scattered throughout the region. Golf enthusiasts can indulge in their passion while enjoying breathtaking views of the Mediterranean Sea and the surrounding landscapes.
Accessibility: Marbella benefits from its strategic location with easy accessibility to major transportation hubs. Malaga Airport, located just a short drive away, offers direct flights to various destinations worldwide, making international travel convenient.
Safety: Spain, in general, has a reputation for being a safe country, and Marbella is no exception. The city maintains a low crime rate, providing residents with peace of mind and a secure living environment.
Real Estate Market: Marbella's real estate market offers a wide range of properties, from luxury villas and beachfront apartments to prestigious gated communities. The city presents investment opportunities and a high quality of life, attracting both permanent residents and those seeking a second home in a desirable location.
Exquisite Dining and Culinary Scene: Marbella is a paradise for food enthusiasts, offering a diverse and thriving culinary scene. The city boasts a wide range of restaurants, from traditional Spanish tapas bars to Michelin-starred establishments, catering to various tastes and preferences. Residents can indulge in a culinary journey, savoring both local Andalusian specialties and international cuisines.
Sports and Leisure Activities: Marbella provides an abundance of recreational opportunities for sports and leisure enthusiasts. Apart from golf, the region offers a plethora of water sports such as sailing, paddle boarding, and jet skiing along its picturesque coastline. The nearby Sierra Blanca mountain range invites residents to explore hiking trails, mountain biking, and horseback riding. Marbella's well-equipped sports clubs and fitness centers ensure an active and healthy lifestyle.
Proximity to Other Destinations: Marbella's strategic location allows for easy exploration of other captivating destinations in the Mediterranean. Within a short drive, residents can visit the charming town of Ronda, famous for its dramatic cliffside views and historic architecture. The nearby cities of Malaga and Seville offer additional cultural and historical experiences, while Gibraltar provides a taste of British influence with its iconic rock and unique blend of cultures.
Festivals and Events: Marbella hosts a variety of festivals and events throughout the year, adding to its vibrant atmosphere. From the glamorous Marbella International Film Festival to the colorful Feria de San Bernabé, residents can immerse themselves in the local culture and celebrate alongside the community. These festivities create a sense of unity and provide an opportunity to experience the region's traditions and customs.
Nature Reserves and Outdoor Escapes: Beyond the beaches and mountains, Marbella is surrounded by stunning nature reserves and national parks. The Sierra de las Nieves Natural Park, a UNESCO Biosphere Reserve, offers breathtaking landscapes and hiking trails. The nearby La Concha mountain provides a scenic backdrop and an opportunity for adventurous climbers to reach its summit. These natural escapes allow residents to connect with nature and enjoy the beauty of the Andalusian countryside.
Vibrant Nightlife: Marbella is renowned for its lively nightlife, catering to those who enjoy the excitement of evening entertainment. The city boasts an array of trendy bars, rooftop lounges, and exclusive nightclubs that come alive after sunset. Residents can indulge in the vibrant party scene, attending glamorous events and rubbing shoulders with international celebrities.
Community Spirit and Expat Support: Marbella has a strong sense of community, fostered by a welcoming environment and a large expatriate population. The city offers various expat support services, including social clubs, language exchanges, and networking events, making it easier for newcomers to integrate and connect with like-minded individuals. This sense of community creates a supportive and inclusive atmosphere for residents.
In conclusion, Marbella's appeal as the best option among desirable Mediterranean places to live is undeniable. Its exceptional climate, stunning beaches, luxurious amenities, vibrant culture, and strong sense of community make it an ideal choice for individuals seeking a high-quality lifestyle. Whether enjoying exquisite dining experiences, engaging in a wide range of sports and leisure activities, or exploring the natural wonders of the surrounding region, Marbella offers a truly remarkable Mediterranean living experience that combines relaxation, luxury, and a vibrant social scene.
Stefan Katafai is a seasoned professional in the real estate industry with extensive experience in Marbella. His expertise, personalized approach, and unwavering commitment to client success make him the ideal partner for your real estate investment needs. If you require assistance, Stefan Katafai is here to help you every step of the way.
By understanding your budget and preferences, Stefan Katafai can conduct a tailored search to find the perfect property that meets your requirements. Whether you're looking for a luxurious villa, a beachfront apartment, or a charming townhouse, Stefan Katafai will leverage his extensive network and market knowledge to identify the most suitable options for you.
With Stefan Katafai's guidance, you can navigate the complex real estate market in Marbella with confidence. He will provide you with comprehensive information about potential properties, including their location, amenities, market value, and investment potential. His expertise in negotiations and deal structuring will ensure that you make well-informed decisions and secure the best possible deal.
Furthermore, Stefan Katafai can assist you in all aspects of the purchase process, including property reform, legal matters, and connecting you with trusted professionals such as lawyers, architects, and contractors. His extensive network of contacts allows him to provide a seamless and efficient experience, ensuring that your investment journey is smooth and hassle-free.
Do you need help with your real estate investment in Marbella? Reach out to Stefan Katafai today to discuss your requirements and benefit from his expertise. With his personalized approach and commitment to client satisfaction, Stefan Katafai will guide you towards a profitable and successful real estate investment in the beautiful region of Marbella.
Please provide your budget and preferences and i will make a taylor made search .
Stefan Katafai
+34 637 973742
Agent4stars.com
https://www.facebook.com/stefan.banus/
https://www.youtube.com/@stefankatafai/videos
https://www.linkedin.com/in/stefankatafai/
https://www.linkedin.com/in/stefankatafai/