Ekaterina Rybolovleva Russian billionaire´s daughter buys private Greek island "Skorpios" from Athina Onassis for £100 million.Original asking price was £170million, the island have been for sale for 8 years.

Ekaterina Rybolovleva, daughter of business magnate Dmitry Rybolovlev, has bought Skorpios, her father's investment office confirmed today.

The 24-year-old purchased the island in the Ionian Sea, west of Greece, from Onassis' sole surviving heir, granddaughter Athina Onassis Roussel, 28, for a reported £100million.
'Ekaterina is delighted that the trust has negotiated this purchase,' a representative of Rybolovlev's family investment office said, confirming she also acquired the neighbouring island of Sparti.
'She regards the acquisition as a long-term financial investment.'
Miss Rybolovleva's father Dmitry, co-founder of the Russian potash producer Uralkali, has a history of snapping up trophy properties and is the owner of the AS Monaco Football Club.
Athina Onassis has agreed to sell Skorpios to a Russian Billionaire, according to Greek media reports. The private island was bought from her grandfather, legendary tycoon Aristotle Onassis, in the 1960?s but today Athina is the sole owner of the property.This is the private luxury island where John F Kennedy's widow Jackie married Greek shipping magnate Aristotle Onassis.
According to the same reports the contracts for the deal are being drafted by two major law firms, one of which is based in Geneva, Switzerland and the other in Athens, Greece. The reports present the sale as done deal and both parties ready to sign.
Skorpios is mainly known as the private island of the late Greek shipping billionaire Aristotle Onassis.
The media went crazy for both the celebrity couple and the idea of private islands, and owning one quickly became the highest symbol of wealth and status.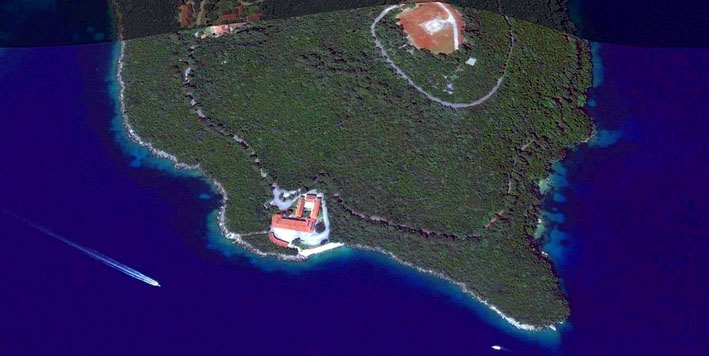 The forested island, which is home to three residences, a helicopter pad and a boat quay, was bought by Onassis in 1962 for 3.5 million drachmas – the equivalent of about £10,000 – and six years later he married Jackie Kennedy there, following the assassination of her former husband, US President John F Kennedy in 1963.
Upon his death it passed to his daughter Christina, and then in turn to her daughter Athina Roussel – Onassis. Onassis, his son Alexander, and his daughter Christina are all buried on the island.
The island was sold by Aristotle granddaughter Athina Onassis Roussel, his only surviving heir.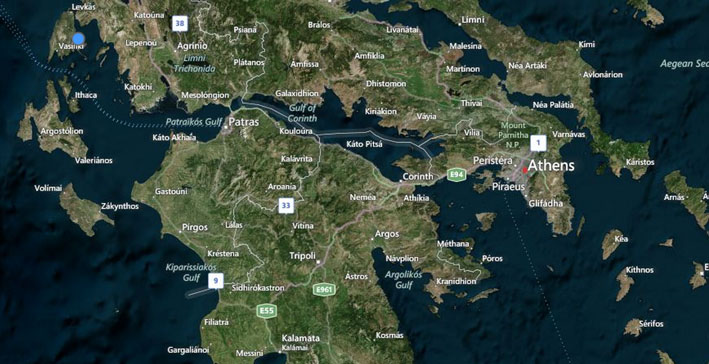 Athina was reportedly looking to sell the island to Emir of Qatar, but the plan fell through when she refused to change the original price tag of $260 million. The Emir bought a group of six islands nearby for $11 million instead.
We have no word on the name of Skorpio's new owner. The island is located in the Ionian Sea and is mostly made up of dense forests with sandy, gorgeous beaches.
Little is known about Athina's relationship to her private island, however she is believed to have spent very little time there.
The island is heavily forested from south to north and features over 200 varieties of trees imported to the once nearly barren island by Aristotle Onassis. There are some sandy beaches, most notably East Beach, which was created by Onassis who brought sand from Salamis island for this purpose.
There is also a small sand beach where the Myconos house, formerly known as the "Pig House" is located.  This was where Jackie Onassis was infamously photographed nude by a Greek paparazzo.
Excact location of Skorpios Meganisi, Lefkada, Ionian Islands, Peloponnisos Dytiki Ellada ke Ionio, Greece.
Among the many celebrities who had shown interest in buying the island in the past are Madonna and Bill Gates.
While the amount of the sale has not been known yet, financial publications estimate the private island's value at over $200 million USD.
Athina Onassis has not made any statements on the reported sale.
Ms Onassis Roussel, 28, who was once described as "the richest girl in the world," is Mr Onassis's only surviving descendant and heir to her grandfather's fortune. Born in France, she is the only child of Christina Onassis and her fourth husband Thierry Roussel.
She married Brazilian Olympic showjumper Alvaro de Miranda Neto in 2005 and lives with him in São Paulo. She competes as a showjumper in her own right, under the name Athina Onassis de Miranda.
Watch a video from Skorpios:
Best Regards-M.f.g-Saludos-M.v.h.
stefan.katafai or agent4stars.com
"A man who stops advertising to save money is like
a man who stops a clock to save time." – Henry Ford