SEVERAL  ART  WORKS  BY  WARHOL  FOR  SALE ask

Andy Warhol's "Silver Car Crash (Double Disaster)."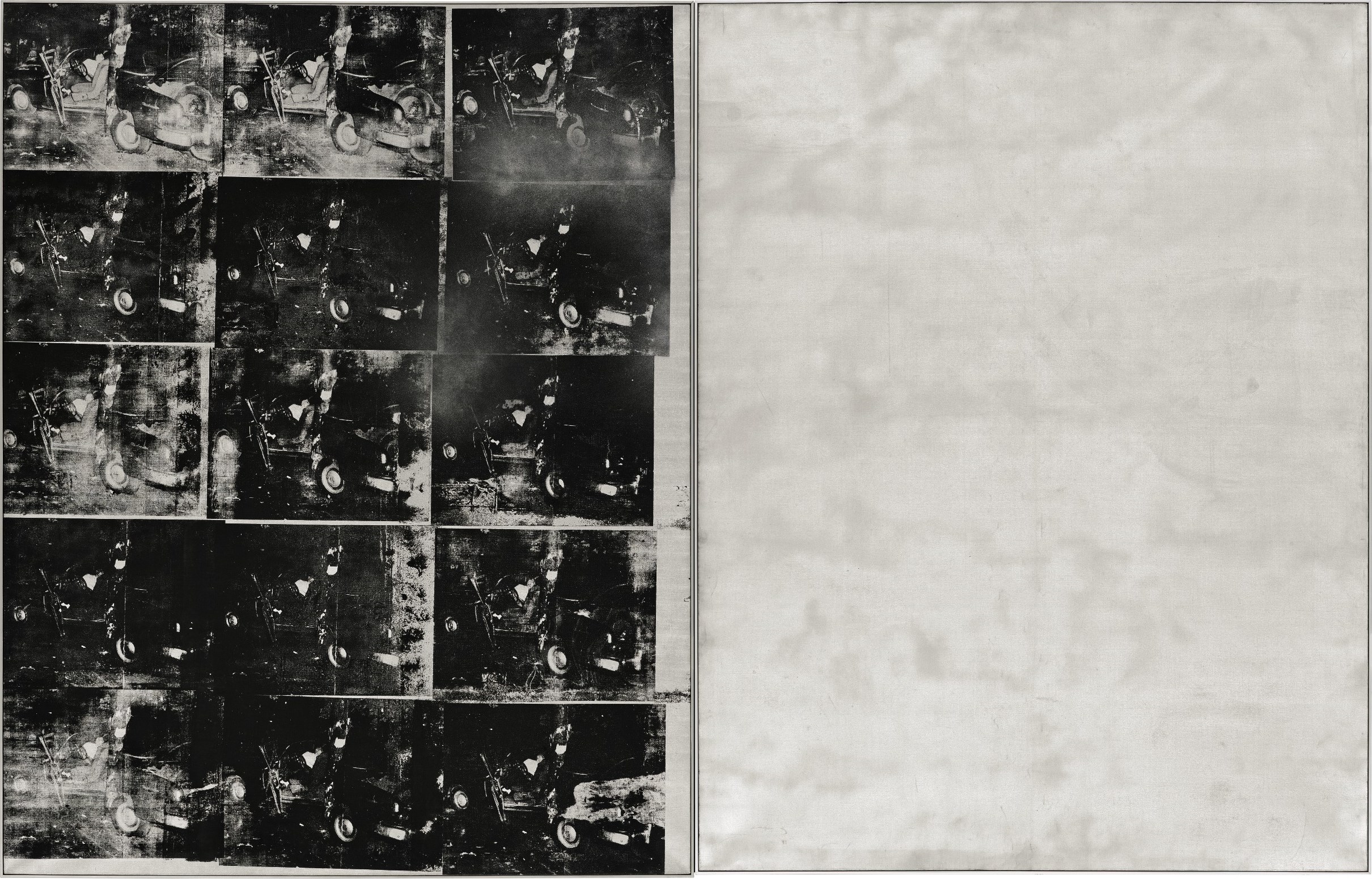 Andy Warhol's "Silver Car Crash (Double Disaster)." Photo courtesy of Sotheby's.Sold 13 NOVEMBER 2013
Wednesday's Sotheby's sale beats a previous Warhol auction in 2007 when Green Car Crash (Green Burning Car I) sold for $71.7 million.


An iconic image by the artist called Coca-Cola (3) sold for $57.2 million Tuesday at Christie's auction house.
The original post from 2011 appears further below but because of the popularity of this post, we wanted to give viewers an up-to-date list of the top Andy Warhol works. Among the many interesting features is the number of new works on the list that have been sold in recent years:
1) Silver Car Crash (Double Disaster) (1963) $105.4m In November of 2013, Sotheby's sold this painting as the capstone to Tobias Meyer's career at the auction house. He left shortly after.
2) Eight Elvises (1963) – $100m   In October 2008, Warhol's Eight Elvises painting was sold in a private sale via French art consultant Philippe Ségalot for a price of $100 million, a record for Warhol's work.
3) Warhol  1963 silk-screen of a trio of overlapping, gun-toting images of Elvis Presley, "Triple Elvis [Ferus Type],"
sold to an anonymous European telephone bidder for $82 million.
4) Turquoise Marilyn (1964) – $80m  In May 2007 the painting, one of Warhol's several portraits of Marilyn Monroe, was purchased by art collector Stephen A. Cohen in a private sale from Dtefan Edlis via Larry Gagosian for a price believed to be $80 million.
5) Green car Crash (Burning Green Car 1) (1963) – $71.7m   Also in May 2007, this painting was sold at a Christie's auction in New York for a then-record auction price of $71.7 million to art collector Philip Niarchos, son of the Greek shipping magnate Stavros Niarchos.
6)  "Elvis," Christie's sold Warhol's 1966 portrait of actor Marlon Brando, "Four Marlons," for $70 million.Andy Warhol  printed a quartet of portraits showing the actor leaning against a motorcycle and dressed as the devil-may-care biker in the 1953 film "The Wild One."
7) Men In Her Life (1962) – $63.4m  In 2010 the black and white portrait of Elizabeth Taylor, pictured with both her third husband Mike Todd and future husband Eddie Fisher, sold to an anonymous buyer at a New York Phillips de Pury & Co auction for $63.4 million. The work was consigned by the Mugrabi family.
8 ) Andy Warhol – Self Portrait With a Fright Wig (1986) sold at Art Basel 2014 usd60m = gpb35m
9) 200 One Dollar Bills (1962) – $43.8m  In November 2009 the painting was sold at a Sotheby's auction to an anonymous buyer for $43.8 million. It was sold by London-based art collector Pauline Karpidas, who had purchased the work in 1986 for a mere $385,000.
10) Statue of Liberty (1962) — $43.8m  Christie's sold this 3D version of the Statue of Liberty in November of 2012.
11) Double Elvis (Ferus Type) —   This Sotheby's lot sold in the Spring of 2012 but the second registration of the image was so faint that one wag called it Elvis 1.1.
12) Marilyn Monroe White – $36.5m With buyers premium $41,045,000 The painting sold in May 13th 2014 at a Christies auction in New York.
Andy Warhol (1928-1987)
White Marilyn
signed, dated and inscribed 'To Eleanor Ward Andy Warhol/62' (on the reverse)
acrylic and silkscreen ink on linen
20 x 16 in. (50.8 x 40.6 cm.)
Painted in 1962.
13) Four Marilyns (1962) — $38.245m Phillips scored with this Mugrabi work in the Spring of 2013 which was bought by a dealer who works for Gagosian Gallery.
14) Coca Cola [4] (Large Coca Cola) – $35.36m  The painting sold in November 2010 at a Sotheby's auction in New York for a price of $35.36 million to Steven Cohen who seemed to have gotten a bargain at the time.
https://www.facebook.com/media/set/?set=a.1831301240324914&type=1&l=c854c32a44

Ask me about the Warhol art works  I have for sale, I can also help you sell a Warhol  please contact me.
Best Regards
I represent very wealthy Buyers and Sellers.